Posted by Ada, Annie, Rain and Yvonne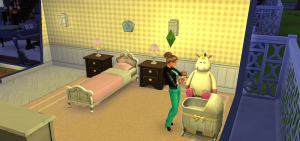 Network-based digital games play a potential role in language learning. Studies have shown that digital games offer several benefits such as reducing language learning anxiety, improving learners' self-confidence, advancing language proficiency and fostering social interactions. But can digital games contribute to higher levels of learners' Willingness to Communicate (WTC)? What are the effects of participating in an online game on learners' willingness to communicate in English?
Case Study
Reinders and Wattana (2014) chose 30 Thai undergraduates of English to do six 90-minute lessons playing Ragnarok Online, a role-playing game installed on a private server and designed to encourage collaboration and communication. For better observation of participants' WTC, they designed two sets of questionnaires: the first one was administered before the first game session and aimed to determine learners' WTC generally. The second set of questionnaires was administered after all computer game sessions were done. Based on these questionnaires, a comparison focusing on learners' WTC (in the classroom and in the game environment) was made.
Results and conclusions drawn from the study
Before playing the game, participants were unwilling to interact in class in the target language. And they were also unwilling to talk about assignments with others, ask for clarification or listen to others. Participants showed their anxiety and worried about making mistakes or sharing their opinions and feelings, which shows that they had a low level of self-perceived communicative competence. In summary, their WTC was low.
While playing the game, participants were active and confident in interaction because they felt less anxiety or nervousness about making mistakes. Their state of self-perceived communicative competence was relatively high: they demonstrated confidence in their English ability and felt that their L2 fluency had been developed. Thus, while playing the game, their WTC was high.
Participants had greater WTC in the game environment than in the classroom environment.
Implications from the study
Environment is very important. A conducive environment is beneficial to students' learning of the target language. Teachers could help to create more comfortable and safe environments in classroom teaching.
Using technologies like digital gaming is beneficial to increasing second language WTC of learners, especially those who are not native, confident and fluent in speaking the target language.
The gaming environment makes learners more confident.
What do we think?
In the study, students were more willing to use the target language in game situations rather than in classroom settings.
This reminds us of some situations where some male students are totally silent in English classes but are able to have lively discussions about on-line games, using a lot of specialized English vocabulary after class. We think this may relate to their high anxiety and low self-perceived communicative competence. As is known to all, in secondary school girls tend to have higher scores than boys in language tests generally, which may lead to the low WTC of boys in class. However, when it comes to their confident field—games—they will perhaps become more confident and willing to communicate in the target language.
Learning a foreign language is anxiety-provoking. Studies show that students who suffer from anxiety are likely to remain silent and are unwilling to participate in English classes. However, the anonymity that games afford encourages students to express themselves freely. Digital games not only offer a platform for students to use the target language without anxiety but also help them to build confidence in using the L2. Moreover, speaking L2 with peers is less anxious than talking to teachers. Therefore, we suggest teachers employ group discussions, asking students to share their experiences and feelings while playing the games with their group mates or have a reflection on these experiences afterwards.
However, there are some challenges when teachers embed digital games in the English classroom. Firstly, although the willingness to communicate and the acquisition of L2 are tightly related — time spent on productive use of language is clearly an important factor in second language acquisition, willingness does not mean the complete acquisition of L2. So how teachers use digital games to foster L2 learning is a big issue. Secondly, there could be a group of students who show no interest in games. Digital games, as we can see, tend to be boys' favorite entertainments, which, however, are likely to be less attractive for some girls. Therefore, efforts should be put into understanding how we can ensure that all learners from different backgrounds and levels are empowered to take advantage of digital games.
Brainstorming
Have you ever experienced digital games in your English class? Were they helpful or not?
Digital games are interesting and attractive, but integrating digital games into the language curriculum can be a big challenge. Do you have any suggestions?
If you want more information about digital games in language learning :