By Kulia, Daisy, Alice and Betty
Photo Credit: rodzr via Compfight cc
As a language learner, have you ever experienced feeling fully competent in activities in the language classroom, but then finding yourself incapable of communicating when thrown into the real world?  Sadly this is all too familiar for the majority of us.
One of the reasons for this may be that we had been too confined to a receptive student identity in the classroom and were not trained to translate the language skill into out-of-class settings.  A solution could be found in a study done by Vasudevan, Schultz and Bateman (2010) .  Together with a fifth-grade teacher, they explored the breadth of composing texts using multimodality (i.e. combinations of words and images) and the literate identities such multimodal composing affords.
The teacher aimed for the students to each tell their own story of their past, present and future. This was done in stages throughout the year, starting with a poem (the most traditional pencil and paper task), then a show-and-tell using "Memoir Pockets", and then moving on to photography, audio recording and filming.  The final product was a multimodal story, which allowed students to share their personal stories with their classmates, families, or an even wider audience.
Through using different digital devices to tell stories, students collaborated on literacy practices and increased their modes of participation and engagement in the classroom. Compared to traditional classroom-based activities, the multimodal storytelling focused more on students' own identities as realized outside the classroom: for example, their identities as family members, basketball players, etc. It did so by allowing students to incorporate aspects of their out-of-class lives, represented in pictures for example, into the classroom. This project brought about big changes for different students.
For students like Michael:
Image credit, Vasudevan et al. (2010)
Before, Michael was an outgoing and energetic African American boy with no passion on school tasks, but he was keen on activities with in which he could attract a lot of personal attention from others, like playing basketball. Through the project, Michael shifted his identity from a student to an actual writer. Multimodal storytelling allowed Michael to connect his home, community, and school contexts and take risks in his composition of stories, including their content and genres.  He became more engaged in school tasks. Also, he took on a recognizable literate identity in his classroom experience that positioned him differently in relation to his peers because he took control the storytelling.
For students like Saima:
Image credit, Vasudevan et al. (2010)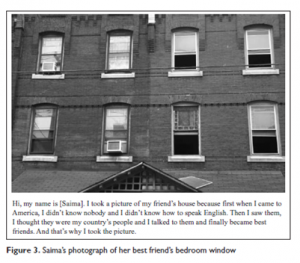 Previously, Saima was a shy and physically small girl who did not feel much sense of belonging in the classroom because of her poor English. Multimodal storytelling allowed her to make a contribution to the classroom community through images and music. Saima displayed tremendous improvement in her academic reading and writing practices as she rapidly learned a new language and a new way of learning.  The poetry, writing, photographs, and music all gave Saima the chance to tell her story. Also, she became confident in showing her identity of being a child of South Asian immigrants.
Application
Nowadays, students enjoy a culture packed with media experiences that are under-represented in the school curriculum and not present at all in the formal assessment criteria which currently drive the school system. Technology gives students new ways to tell stories with electronic tools such as multimedia softwares, and helps students make formal or nonfiction presentations.
Multimodal storytelling delivers visuals and audios and permits electronic sharing opportunities, providing chances for many oral-aural classroom events. The case studies provided in this research revealed that multimodal storytelling allows students to bring their out–of-classroom knowledge and experiences from society and become more motivated in school tasks. Apart from that, students who have few experiences speaking in front of others can use the visuals to help them remember and deliver their lines.
One exciting development made possible by the World Wide Web (WWW) is the abundance of multimedia software programs now within the grasp of students everywhere. Apart from the software suggested in the research, students can also use MovieWorks, Digital Chisel or Naturally Speaking for Teens to add visuals to their retelling of stories. WiggleWorks, for instance, allows students to record stories on the computer and listen to themselves. Some of these programs can create HTML files that can be placed on a class or school website. All of them can be used creatively to encourage students to speak inside and outside the language classrooms.
Reflection
Apart from pictures and videos, can you think of other modalities that can be used in multimodal storytelling? How might multimodal storytelling be used in conjunction with language learning activities?
Do you have any experience of sharing your personal stories in class? Can you share with us?
Reference
Vasudevan, L., Schultz, K., & Bateman, J. (2010). Rethinking Composing in a Digital Age: Authoring Literate Identities Through Multimodal Storytelling. Written Communication, 27(4), 442-468.