As a new mode of language learning, some foreign language learning websites with social networking features appear as collaborative platforms in which users can learn languages by communicating directly with other members of the online community. In Stevenson and Liu's (2010) article, Palabea (the website has been closed), Babbel and Live Mocha, three language learning websites, are selected and compared to see to what extent could they satisfy users' need of language learning and social interaction.
First of all, Stevenson and Liu's (2010) conducted a survey among current users of Babbel. Then, they invited five students as potential users to test the usability of the three language learning websites. The participants were asked to complete some tasks that were related to the technical, pedagogical and social functions of the websites.
The study found that there should be some high quality learning materials in a language learning website since users need to improve their reading and writing skills before they have social interaction with other speakers. Also, language learning websites should have a clear layout and instructions so users can find what they need easily. Moreover, the websites need to pay attention to the regulation of the social function, making sure that the social networks are used for educational purposes. Next, we want to elaborate on the features of language learning websites by taking busuu as an example.
Features of Foreign Language Learning Websites in General  
Technical usability:
The technical support offered by a website to help users solve their problems quickly, such as the layout of the website and the instructions provided
Pedagogical usability:
The materials that users can learn and use, including electronic dictionaries, videos and online lessons.
Social interaction:
Social networks that enable users to find and interact directly with suitable partners to learn languages from the user pool easily.
(Summarized by the Authors based on Stevenson and Liu, 2010)
The Ways Users Learn Through Foreign Language Learning Websites
We will use the busuu language learning website as an example.
When new users first log into the website, the level of language they want to learn could be quickly determined by a test.
Listen to the pronunciation of new words and learn.
Choose the right answer according to the pronunciation of new words.
A test will be given to checkusers' learning outcomes about specific.
Users could practice the expression they just learned by writing or speaking and share into the community section for feedback. Similarly, learners could teach their native languages to other users by giving feedback.
This website is relatively user-friendly as there is a vocabulary trainer in the website. The trainer serves as a helper to consolidate what users have learned in the lessons. Most importantly, the trainer knows exactly which vocabulary users need to review according to the record of their actual learning situation.
In this website, users are allowed to specify the kind of learners they want to instruct through a filter. As long as users select 'advanced' for their second language in the personal settings, they can give feedback on other users' exercises. The notification section on the upper-right corner would quickly remind learners of the changes made by others and the corrections that they made on others' work. Users could also add native speakers of the languages they are learning and make conversations with them in the interaction section to have more practice.
Figure 1. Screenshot from busuu
This image is captured from the personal setting of the website, which is to test the personal language proficiency by pressing the button named "Start the test".
Figure 2. Screenshot from busuu
This image is to show that users can specify the type of learners they want to instruct through a filter.
Figure 3. Screenshot from busuu
This image is to show how the users can give feedback to others' exercises.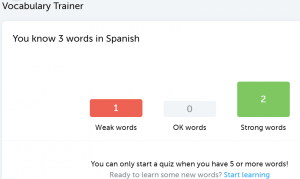 Figure 4. Screenshot from busuu
This image can be found from the review session where users can find the words they need to consolidate after the lesson.
Reflection on language learning websites
From users:
In our opinion, users can study through language learning websites selectively, as they can choose the websites that are most suitable for themselves. Self-disciplined users are more suitable for autonomous learning in virtue of technical usability in language learning websites, while extraverted users can learn foreign language interactively with social networking elements. Besides, learners with various levels of linguistic competence can choose the area which they would like to improve on, such as grammar, vocabulary, speaking skill, with different website functions.
From websites:
From Stevenson and Liu's observation, users are intrigued about the opportunities that language learning websites can offer, but they expect more improvement along with further using of language learning websites. Therefore, websites should pay more attention to the proportion of traditional learning content and social networking elements. Some users expect to acquire more knowledge from static lesson content, including videos, lessons, articles, instead of practicing with native speakers. While others complain that too many social elements in language learning websites easily remind users of social networking sites, but learning websites should be built for learning, not for establishing social relationships. As for the improvement, apart from one-to-one collaborative learning, we think websites can also provide chat rooms or study groups to gather multiple users, along with supervision to keep them for educational purposes.
Questions
Do you think it is possible to learn a language with only language learning websites?
Which functions of language learning websites do you value most, pedagogical, technical, social networking? And why?
What functions or improvements do you expect to have for language learning websites in the future?