Edited by Julia, Miles, and Zoe
If I ask a question, What is writing in an L2 language course, or what components do you think writing consists of? It sounds like a dumb question. Because whatever it is in L1 writing or Lx writing, in most people's minds, writing is the combination of vocabularies, phrases, and sentences in a text on a piece of paper.
But have you ever thought writing could be interpreted in another way that is more interesting and dynamic?
For example, do you think the video below can be regarded as a new way of writing?
Don't you think it is much easier to read and comprehend compared to tediously written essays?
Multimodal Design
Belcher (2017) argues that the multimodal composing and digital design (also referred to as multimodal design; see Casanave, 2017) has been regarded as a new approach to writing. Miller-Cochran (2017) gives an expanded definition that "a class that facilitates multimodal composing and design asks students to engage in making meaning with a range of modalities and in new genres. These modalities might include images, sound, movement, video, spoken words, or hypertext".
A brief rationale for multimodal design
*Zamel (1982)and other scholars thought writing was more than encoding and decoding scripts. Rather, writing was a discovery process of ideas, forms, and a means of self-expression. This was also a chance of co-operating with peers and teachers, who not only monitored students' correct use of language but also facilitated the writing process.
*The driving force behind the reconceptualization from a multimodal design perspective is the recent improvement in communication technology, which has made writing no longer being limited in the materiality of print or online copies of printed text – words on a page or screen. Writing pedagogy should be viewed as facilitating composing by taking advantage of a large semiotic toolkit, such as color and sound, still and moving images. The re-conceptualized writing is referredto by Purdy (2014) as the "visual turn"-"seeing texts as visual; treating images as texts" (pp. 615).
*Because mobile devices are now common among young people, they actively engage in many personally meaningful writing and composing in new media. Out-of-school literacy practices create a close connection with others, which, in return, encourages informal writing.
*L2 writing specialists are concernedthat online writing or writing on mobile devices is not real writing since this may be detrimental to serious academic study. They thought digital devices would cause students distraction and superficial thinking. But the author thinks these are just concerns instead of facts. The similar doubt occurred to the initial stage of writing. Ancient people thought writing was harmful to people's memory and made children know too much in that ignorant time as everything could be recorded in writing.
*Apart from writing being viewed as a technology, the current electronic communication is also dependent on it. With the advances of interactive digital technologies, any authors with Internet access can reach a worldwide audience.
Affordances
Among various affordances brought by multimodal designs, Belcher (2017) pointed out the three benefiting groups of learners, which are literacy learners, language learners, and L2 writers, by indicating that digital projects provide them with the opportunities for growth.
For literacy learners:
*As our world is going to be more digital in the future, digital designs can provide literacy learners with state-of-the-art practices in electronically enhanced practices in both disciplines and workplaces.
*However, teachers should be aware of the digital gap existing in our society. Therefore, to help those people who are likely to lose their academic success because of non-proficiency in technology, teachers should provide in-time support for learners in need.
For language learners:
*Multimodal designs offer advanced language teaching strategies to language learners. For example, teachers can use integrative strategies to guide students in task-based learning and teaching (TBLT) to improve learners' multi-dimensional competence, e.g. asking students to create a video to practice both speaking and writing skills.
*By using digital communication tools, learners are able to experience authentic communication with people around the world. This can then motivate those learners' autonomy. In a research done by Hafner and Miller (2011), researchers have found that through digital communication tools learners not only improved their ability to independently search for relevant information, but that learners also got more chances to practice the target language by themselves.
For L2 writers:
*For a multimodal design task, writers can use other forms of modes like pictures, music, etc.to better express themselves.
*Through combining various types of modes, learners' awareness of genres could be improved, especially regarding the knowledge of how and why they should use a specific genre. Also, Hafner (2014)pointed out in his research that those digital projects can be used as inspiring foundations for future academic tasks.
Why become facilitators of multimodality?
Even though it is inevitable that multimodal design will be widely spread in education in the near future, there are still scholars expressing their concerns and doubts according to their academic research (Belcher, 2017).
Belcher (2017) suggested that the copyright and originality of writings may face challenges due to the innovative and unrestrained features that digital technology holds. Meanwhile, the teachers may find it difficult to acquire the ability to manipulate digital technologies, master the techniques in applying those technologies into pedagogy, and design effective assessment activities for a multimodal pedagogy. Other factors such as financial support, school policies, and administrators' ideology would also put certain degrees of limitation on the development of digital pedagogy.
However, the fact is that multimodal design gradually is penetrating our lives in a positive way, and we need to sharpen our awareness and get ready to accept it instead of evading the issue.
With all these existing resistances in the developmental process of multimodal pedagogy, it is our responsibility to be aware of the problems and become facilitators in promoting the development of multimodality.
Conclusion
With the onward trend, we can find many examples of using multimodality in teaching.  For instance, the Dong Feng Dong Road Primary School in Guangzhou, China, introduced iPads and VR in their classrooms in August 2014 (Fig.1 & Fig.2 below) and faced many of the problems mentioned previously. Nevertheless, with boundless efforts and the facilitation of teachers, the school achieved many signs of progress and intended aims. It seems that becoming facilitators of multimodal pedagogy does help with its development.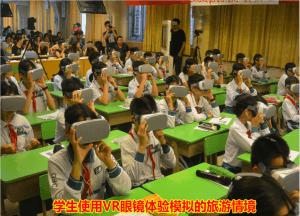 Fig 1. The application of VR in writing class in Dong Feng Dong Road Primary School
Fig 2. The application of iPads in Maths class in Dong Feng Dong Road Primary School
Questions: 
Would you try to use multimodal composing to design assignments for your students? What subjects do you think are suitable for the new style?
 If you become a facilitator of multimodal design, what challenges do you think you will encounter? How will you overcome them?
Image resources:
https://ps.k12china.com/material/commonJsp/plug_site/info/info.do?method=infoLook&param=navigateId=8189,productId=124&infoId=76238
https://ps.k12china.com/material/commonJsp/plug_site/info/info.do?method=infoLook&param=navigateId=8189,productId=124&infoId=76238