Post by Krystal, Yvaine, Aria and Eva
When you think about writing, what are the ideas that pop into your head? Are you still thinking about characteristics like sophisticated, long paragraphs, or closely related to paper? Probably yes. Under the influence of standardized writing tests, ESL learners are all familiar with the ongoing privileged format of the five-paragraph essay.
But have you ever considered L2 "writing" could be integrated with other skills in the age of CMC? What's your impression of our weekly blogging posts? Or a post like this?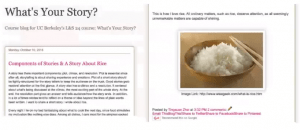 A screen shot of the "What's your story?" course blog From: American English Webinar
How about this video?
Source of video: https://www.youtube.com/watch?v=mOV1aBVYKGA
Would you categorize these types of productions as a form of writing? Do you find them more audience-friendly than the traditional alphabetic writing text? You can hopefully see the integration of multimodal composing and digital design, which ensures information is delivered to the audience much more effectively.
A multimodal composition is one that uses more than one modality to achieve its intended purpose. The modalities are an integration of "visual, audio, gestural, spatial, or linguistic means of creating meaning". As Belcher (2017) pointed out, "writing" is redefined to a wider notion of "composing" and absorbs the modern idea of multimodal composing and digital design, which gives us insights for the potential of activating L2 writing pedagogy.
The Rationale for a Multimodal Design Perspective
Zamel (1982) made arguments that writing was a discovery process of ideas and forms, and a way of expressing ourselves more than a means of encoding speech. This game-changing argument is similar to the reconceptualization of writing as multimodal composing and digital design.
The development in communication technology has made it possible for us to write beyond the confines of the materiality of print or online facsimiles of printed texts. In addition, the opening up to a variety of semiotic resources, like color, sound, still and moving images have enlarged the expressive potential of the writing. In an attempt to shift text writing to design, Purdy (2014) developed a concept called "visual turn", "seeing texts as visual; treating images as texts" (pp.615). Therefore, we should take advantage of this large semiotic toolkit to facilitate composing.
A screen shot of multimodal design tools From: YouTube
Nowadays, with the ever-increasing popularity of digital devices, young people have a very active "digital underlife" (Mueller, 2009, p. 240) which means that they engage in many personally meaningful "discursive practices," or self-sponsored "composing in new media" (p. 246). These extracurricular literacy practices make multimodal writing acceptable to students.
Chun et al. (2016) further observed that writing itself is technology, which is as inherently bound to technological systems as it is to sign systems. With the interweaving of technology and human activities, multimodal writing has become an irreversible trend.
In the digital era, writing is already multimodal to a great extent, and will certainly evolve in the future.
Affordances
Multimodal design offers more learning opportunities to different groups of learners.
For literacy learners
Proper use of multimodal design prepares literacy learners to live in a "digitally mediated world" (Hafner, 2015, p. 487). It matches learners' out-of-class behavior, enables electronically facilitated learning in diversified disciplines, and familiarizes them with the digital practices in future professions and workplaces. Besides, as the closing of the digital gap among students, the critical/uncritical digital user divide also closes.
For language learners
1. Multimodal design enhances cutting-edge language teaching strategies, such as task-based learning and teaching (TBLT). As Blake (2016) mentioned, with the help of new technology, students are likely to combine four basic language skills in TBLT tasks. For example, a speaking task, which involves video posting and peer collaboration, possibly requires speaking, listening, and writing skills.
2. Multimodal design projects can facilitate natural and authentic communication with target language users. By interacting with real audiences, a multimodal design project, such as digital storytelling, offers learners the motivation to develop both language and literacy skills.
For L2 writers
Multimodal design helps with both learning to write and writing to learn.
1. Taking advantage of technology and socially available repertoire (eg. images and sounds), struggling writers are encouraged to express themselves more freely.
2. Digital projects promote the increasing awareness of genre. Through the experience of converting print genre to digital genre, learners' knowledge of each genre is further consolidated.
Shortcomings
For students
1. Affecting students' capability for serious academic study
Casanave (2017, p. 81) mentioned that "informal social networking and entertainment activities" may have an impact on students' capability for serious academic study. The informal way of composing in the Internet might affect the way they write essays, read books and organize their thoughts.
2. Distracting students' attention from key points
Multimodal composition in English classroom usually combines interesting pictures, music and video. Students might be attracted by those assisted elements and ignore the emphasis of the English writing class.
3. Students can be misled by mixed up information in the Internet
For some students without self-discipline, they may become addicted to the Internet and spend lots of time surfing the Internet. When they are searching data for their assignments, they might be attracted by some irrelevant information and even be misled by some incorrect information.
4. Encountering technical problems
Some students are not familiar with the multimedia tools, thus, they might get into troubles when creating their multimodal writing project.
For teachers
1. Increasing teachers' workload
Compared with the traditional English writing lesson, a multimodal writing lesson requires teachers to prepare more components for the lesson.
2. Lack of related training
Since multimodal composing and digital design is a relatively new topic, there is insufficient well-organized training for teachers.
3. Encountering technical problems
Teachers might also be unfamiliar with teaching multimodal composition and the necessary multimedia tools. When they meet with computer breakdown or some other technical problems, the lesson plan will be seriously affected.
Recommended video:
https://www.youtube.com/watch?v=bp_n42qI6JA
https://www.youtube.com/watch?v=ljUY02knyYI
https://www.youtube.com/watch?v=3yMT3pCEQIs
Discussion
Do you have any experience of composing or reading a multimodal design before? If yes, can you further elaborate on how it enhances your language/ digital literacy learning?
As a possible English teacher, will you implement this approach into your class? What kinds of teaching activities or tasks will you use?